line.at In der Sprache der "Gäste"
---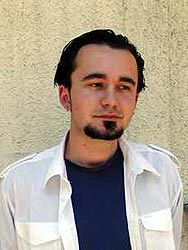 Dzenan Sehic

Arbeitserfahrung/experiences:
Jul.1996 - Mai 1997- Ich arbeitete als Touristenführer in der Kilianskirche (Luegde / Deutschland)
From July 1996 until May 1997 I was a tourist-guide at the Kilians-church (Luegde / Germany)
Okt. - Sept.1998 - Sarjevo Film Festival
Oct. – Sep. 1998 – Sarajevo Film Festival
Okt - Sept. 1999 - Aushilfe beim Sarajevo Film Festival
Oct. – Sep. 1999 – assistance at the Sarajevo Film Festival
Status ( professional membership )
Student (Bildhauer und Restaurator/Conservator)
Student (sculptor and resorator/conservator)

Schulbildung / Education:
z. Z. Student der Kunstakademie in Sarajevo (ALU)
at the moment student at the Acadamy of Fine Arts in Sarajevo (ALU)
Realschule Luegde (1994 - 97)
Secondary school in Luegde (1994 - 1997)
Kunstmittelschule für angewandte Kunst, Sarajevo (1997-2001)
Secondary School for applied arts, Sarajevo (1997 – 2001)

Sprachkenntnisse: Konversations Deutsch und Englisch
Languages: Conversation - German and English

Computerkenntnisse: ausreichende Kenntnisse in allen Bereichen
Computer knowledge: sufficient knowledge in all fields

Hobbies: Kunst und Schreiben (Philosophie und Poesie),
Hobbies: arts and literature (philosophy and poetry)
Verheiratet / Married - ---
Kinder / Children- ---

Biografie/biography:
Name/name - Sehic
Vorname/first name - Dzenan
Geschlecht/sex - m
Geburtsdatum/date of birth - 10. Maerz, 1982
Geburtsort/place of birth - Sarajevo
Schulerfahrung / Schools:
1989 - 1991 - Grundschule Vuk Karadzic (jetzige Alija Nametak) in Sarajewo (nur die ersten drei Klassen)
1989 – 1991 primary school Vuk Karadzic (now: Alija Nametak) in Sarajevo (only the first three classes)
1992 - Grundschule St. Marien in Luegde, Deutschland
1992 – primary school St. Marien in Luegde, Germany
1994 - 1997 - Realschule Luegde in Luegde, Deutschland
1994 – 1997 – Secondary School Luegde in Luegde, Germany
1997 - 2001 - Mittelkunstschule für angewandte Kunst (SSPU) in Sarajevo
1997 – 2001 – Secondary School for applied Arts (SSPU) in Sarajevo

Kunsterfahrungen ( Ausstellungen ) / artisic experiences (exhibitions):
Von 1994-1996 nahm ich an verschiedenen Projekten "Jugend forscht" teil -1994 - erster Preis im Schreiben
From 1994 until 1996 I participated in various projects of "Jugend forscht"
- 1994 award in writing
- 1995 - Sonderpreis im Zeichnen / spezcial award in Drawing
- 1996 - Sonderpreis im Ikonenmalerei / special award for Icon Paintings
- 1995 nahm ich an einem Comic-Wettbewerb teil wo ich durch die Vorausscheidungen kam (Berlin - Comic Messe), doch von der Jury in Los Angeles wegen meines Alters disqualifiziert wurde (ich war zu jung), bekam ich einen Sonderpreis (mein Comic wurde bei der Ausstellung in L.A. ausgestellt).
- 1995 I participated at a comic-competition and I reached the first qualifying (Berlin – comic fair), but the jury in Los Angeles disqualified me because of my age (I was too young); so I got a special award (my comic was shown at the exhibition in L.A.).
- 1996 - selbständige Ausstellung im Kunstmuseum Luegde / independent exhibiton at the "Kunstmuseum Luegde"
- 2000 - Ausstellung "Zeichnungen" im Café "Rembrandt" in Sarajevo / exhibition "Drawings" at the café "Rembrandt" in Sarajevo
- 2001 - Ausstellung "Sjaj" in der Galerie @ in den Kellerräumen der Kunst-Mittelschule in Sarajevo / exhibition "Sjaj" at the gallery @ in the cellar of the secondary school for art in Sarajevo

In den letzten sieben Jahren, in denen ich mich intensiv mit Kunst beschäftige habe ich so manches erlebt und gelernt. Mein erster richtiger Kontakt mit Kunst war 1996, als zwei Mitschüler und ich unter der Aufsicht unserer damaligen Kunstlehrerin Elisabeth Kroes ein Wandgemälde im Luegder Schwimmbad bemalten. Das Gemälde war über drei Wände je 3m Durchmesser. Wir malten fast sechs Wochen. Dann später nahm ich an verschiedenen Projekten teil. Als ich dann 1997 nach Sarajevo zurückkam, machte ich meinen Abschluss in der "SSPU" (siehe oben). Während der letzten Jahre habe ich immer wieder versucht, ein Projekt auf die Beine zu stellen und zwar die Eröffnung eines Gemeinschaftsateliers in Sarajevo, jedoch klappte dies bislang nicht, da sich kein Geldgeber für so ein großes Projekt fand.
Jeden Tag lerne ich etwas neues, und seitdem ich in die Kunstakademie gehe erst recht, denn ich nehme an einem neuem Projekt der Kunstakademie teil - und das ist Restauration und Konservation. Es dauert drei Jahre und am Ende bekommt man ein Mittelstufen-Diplom. Im Grossen und Ganzen macht mir alles was ich bisher mache sehr großen Spaß und darum klappt auch alles etwas besser und das ist ja auch irgendwie der Sinn des Lebens - dass man das macht was einem Spaß macht.

During the last seven years, in which I engaged in art intensively, I have experienced and learned a lot. My first real contact with art was in the year 1996, as two class-mates and I painted a mural in the Luegder bath – under the supervision of our art-teacher Mrs. Elisabeth Kroes. The mural reached over three walls, each times 3 m diameter. We painted about three weeks. Later on I participated at various projects. When I came back to Sarajevo in 1997 I made my graduation at school at "SSPU" (see above). During the past years I often tried to realize one special project, what is the opening of a shared studio in Sarajevo, but I didn't succeed so long, as a donator for such a great project can't be found.

Each day I learn something new – even more since I study at the Academy for Fine Arts, as I participate at a new project of the Academy, what is restoration and conservation. It lasts three years and at the end one finishes with a secondary-degree. Generally speaking I enjoy everything I do and that's why things go even better and somehow that's also the sense of life – that one enjoys the things he does.
Dzenan Sehic
Zaima Sarca 92
71000 Sarajevo
Bosnien und Hercegovina
Telephone: ++387 33 203 596